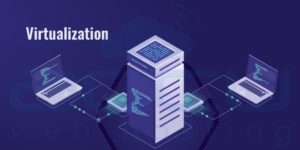 In today's fast-paced technological landscape, virtualisation has emerged as a game-changing technology that has revolutionised how we manage and utilise computing resources. Whether you're an IT professional, a business owner, or simply curious about the concept, this blog will take you through the fascinating virtualisation world.
What Is Virtualisation?
Virtualisation is creating a virtual (rather than actual) version of something, including but not limited to hardware, storage devices, operating systems, and networks. The primary goal of virtualisation is to maximise the efficiency, utilisation, and flexibility of IT resources while reducing costs and simplifying management.
Types of Virtualisation
Server Virtualisation: Partitioning a physical server into multiple virtual servers. Examples: VMware, Hyper-V, KVM, Xen.
Desktop Virtualisation: Centralising desktops for streamlined management, security, and remote access.
Storage Virtualization: Pooling physical storage devices for efficient utilisation, data migration, and simplified backup.
Network Virtualisation: Creating multiple virtual networks on one physical infrastructure for isolation and SDN.
Benefits of Virtualisation
Cost Efficiency: Reduces hardware costs and energy consumption.
Flexibility: Easily scales to meet changing demands.
Improved Disaster Recovery: Simplifies backup and recovery.
Isolation: Enhances security by isolating applications and workloads.
Resource Optimisation: Real-time resource management for efficient allocation.
Challenges and Considerations
Resource Overcommitment: Monitor resource usage to avoid performance issues.
Complexity: Requires proper planning, training, and management tools.
Security: Addresses new security concerns and vulnerabilities.
Licensing Costs: Software licensing can be a significant expense.
Future Trends
Containerisation: Lightweight alternatives to traditional VMs with Docker and Kubernetes.
Edge Computing: Bringing processing closer to data sources for faster response times.
AI and Automation: Streamlining management, resource allocation, and enhancing security.
Conclusion
Virtualisation's transformation of IT offers efficiency, flexibility, and cost savings. As technology advances, virtualisation remains a crucial driver of innovation. Whether you're an IT pro or a newcomer, understanding virtualisation is an investment in the future of technology.