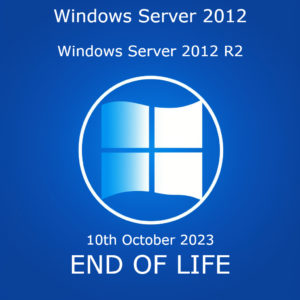 Windows Server 2012's end-of-life deadline is October 10, 2023. After that, Microsoft will stop offering updates and support. This blog explains why, gives tips on migrating to Windows Server 2022, and highlights the risks of not upgrading.
Why is it happening?
The deadline for end-of-life (EOL) for Windows Server 2012 is not a random date picked by Microsoft. Instead, there are various convincing reasons behind it:
Security Concerns: Using outdated server operating systems like Windows Server 2012 R2 can make your network vulnerable to cyber attacks. Regular security updates are essential for protecting your data and system from hackers.
Performance and Compatibility: Using an older Windows Server version can limit performance and compatibility with modern hardware and applications. Upgrade to newer versions for improved optimization.
Compliance Issues: Using an unsupported operating system can lead to compliance violations and legal/financial consequences in industries with specific data security and privacy requirements.
Lack of Features: Updating your server to a newer version unlocks better features and scalability options. Sticking with an outdated OS limits your potential.
Tips to Ease Your Migration to Windows Server 2022
Assessment and Planning: Evaluate your current environment and create a migration plan for transitioning from Windows Server 2012.
Backup and Data Migration: Securely transfer and backup critical data during server migration to prepare for unexpected issues.
Application Compatibility: Ensure app compatibility with Windows Server 2022. Some may need updates to work correctly.
Testing: Test thoroughly in a non-production environment before migrating to avoid issues in your live environment.
Training and Documentation: Train IT staff on the new server environment and provide documentation for a smoother transition.
Consider Cloud Options: Consider moving some workloads to the cloud with Azure's flexible solutions.
What are the consequences of using Windows Server 2012 R2 after October 10, 2023?
Using Windows Server 2012 R2 after the EOL deadline has significant drawbacks:
Security Risks: Your server needs security updates to protect your data and network from threats.
Compliance Issues: Running an unsupported operating system can lead to compliance violations and penalties for businesses subject to regulatory standards.
Lack of Support: Microsoft won't support Windows Server 2012 R2, so you must troubleshoot independently.
Decreased Performance: Over time, the lack of updates and optimizations can decrease performance, negatively impacting your server's efficiency and responsiveness.
Compatibility Challenges: Using Windows Server 2012 can hinder keeping up with technology trends due to compatibility issues with newer software and hardware.
Manage your time wisely and avoid waiting until the last minute!
Windows Server 2012's end-of-life deadline is approaching. Migrating to a supported option, like Windows Server 2022, is crucial to maintain security and performance. Failing to meet deadlines risks security breaches, compliance issues, and operational interruptions. Plan and execute a seamless migration before October 10, 2023. Start your migration process today to safeguard your IT environment and business operations.