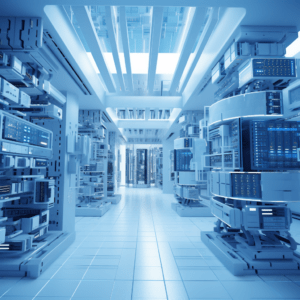 Information Technology (IT) forms the backbone of most modern businesses. It's the engine that keeps everything running smoothly. But what happens when that engine sputters, slows down, or even stalls? The results can be catastrophic: productivity loss, revenue decrease, and a frustrated workforce. In this blog article, we'll delve into the dangers of inefficient IT infrastructure and discuss the key strategies to keep your business running smoothly.
The Pitfalls of Inefficient IT Infrastructure
Inefficient IT infrastructure can have a snowball effect on a company. It starts small, with little delays and hiccups, but it can rapidly grow into a mountain of problems that threaten to paralyze a business. Here's what you need to watch out for:
1. Productivity Loss
When systems slow down, so do employees. If a worker has to wait five minutes every time they need to access a file or application, those delays can quickly add up. This wasted time translates directly into lost productivity, impacting your bottom line.
2. Revenue Decrease
A sluggish IT system doesn't just affect your employees – it impacts your customers as well. Slow loading times or frequent downtime can drive potential customers away, causing a direct hit to your revenue.
3. Security Risks
Older, inefficient IT infrastructure may be more susceptible to security breaches. As systems become outdated, they may no longer be compatible with the latest security protocols, leaving your business vulnerable to cyber-attacks.
4. Increased Costs
Maintenance and troubleshooting of an inefficient system can become a financial drain. The constant need to patch and repair can quickly consume your IT budget, diverting funds away from innovation and growth.
Strategies for Avoiding the Pitfalls
Fear not, for it's never too late to steer clear of these issues. Here's how:
1. Regular Assessments
Conduct regular audits and assessments of your IT infrastructure. Knowing the current state of your system allows you to spot potential weaknesses before they become critical problems.
2. Invest in Modernization
If your system is outdated, it may be time for an upgrade. Investing in modern technology can make your operations more efficient, secure, and adaptable to future changes.
3. Implement Proper Security Measures
Protecting your infrastructure is paramount. Regular updates, firewall implementation, and strict access controls are just some of the ways to enhance security.
4. Monitor and Analyze Performance
Use tools to monitor system performance, identify bottlenecks, and analyze user behavior. This data-driven approach can guide your optimization efforts.
5. Train Your Team
Ensuring that your team knows how to use the technology efficiently can minimize user-induced errors. Regular training sessions can keep everyone on the same page.
Conclusion
Inefficient IT infrastructure is more than just a tech problem; it's a business problem that can ripple throughout an entire organization. However, understanding these pitfalls and implementing targeted strategies can keep your business running smoothly. Don't let outdated systems drag you down. Take proactive steps today to ensure your IT infrastructure is a pillar of strength, not a weak link, in your business's success.