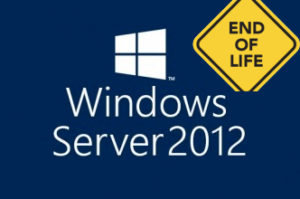 In today's fast-paced world of technology, staying ahead of the game is crucial for businesses to run smoothly and keep their data secure. One of the biggest obstacles IT administrators and organisations face is the end of Windows Server 2012 R2 support. While change can be scary, preparing and anticipating the consequences is vital to a successful migration. In this blog post, we'll explore why staying ahead of the curve is important and share some effective strategies for preparing for the end of support.
Understanding the End of Support for Windows Server 2012 R2
Windows Server 2012 R2 has been a steadfast workhorse, providing numerous organisations with stability, performance, and security. However, a pivotal change awaits. With the 10th of October drawing near, Microsoft will cease delivering crucial security updates, patches, and technical assistance for this operating system. This cessation poses a notable risk to businesses extending their reliance on Windows Server 2012 R2 past its support termination.
Strategic Planning: Preparing for Unforeseen Scenarios
It is imperative to fathom the repercussions of this imminent shift. In navigating this transition, two robust alternatives emerge: migrating to the cloud or upgrading to Windows Server 2022. We will explore each solution in the forthcoming sections, expounding its benefits and considerations. This will empower you to make a well-informed and informed decision.
Embracing Cloud Technology:
A seamless transition to Microsoft Azure offers a respite, with Extended Security Updates available at no cost for three years post-support termination. Azure Virtual Machines proffer flexibility, scalability, and cost-efficiency. Furthermore, Azure Arc facilitates the management of your hybrid environment, coupled with automated ESU updates. This approach facilitates an interim "lift and shift" while priming you for an upgraded operating system.
Elevating to Windows Server 2022:
For present Windows Server 2012 users, two pathways lie ahead. The initial route entails upgrading to the latest iteration of Windows Server, guaranteeing enhanced security, performance, and innovation. The alternative avenue involves procuring ESUs (Extended Security Updates), which furnish security patches for three years following support termination. Notably, ESUs are exclusively accessible to entities under an Enterprise Agreement with Microsoft, making this option inaccessible for most businesses. Irrespective of the chosen route, ensuring your server's currency and security remains paramount.
Steering Clear of a Critical Oversight
In a bid to avert being ensnared among the 50% of UK businesses that encounter significant cyber incidents annually, proactive measures are essential if you run an unsupported product. Failing to apply patches might expose your operating system to a major onslaught from malicious threat actors within weeks. To fortify your stance for the future and curtail risks, orchestrating a migration strategy away from 2012 R2 is imperative.
Conclusion:
The impending end of support for Windows Server 2012 R2 beckons preparedness. A decision to upgrade to Windows Server 2022 or embrace cloud infrastructure is pivotal to thwart cyberattacks and operational upheavals. The urgency to migrate should not be deferred. Seeking expert counsel will usher in a seamless transition, cementing the security and continuity of your business's future. Don't leave your business vulnerable to cyber threats and operational disruptions. Seize this opportunity to ensure a resilient future. Contact our experts today to navigate a seamless transition that safeguards your business's security and continuity. Your proactive steps today will pave the way for a worry-free tomorrow.